Duchess Theatre
3-5 Catherine Street, London, WC2B 5LA GB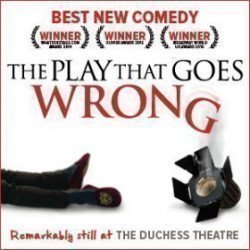 The Play That Goes Wrong
Op basis van

1085

beoordelingen
Duchess Theatre
Boeking tot: Sunday, 27 October 2019
Looptijd: 2 hours 5 minutes
Tickets

boeken
Beoordeling door de pers
A masterpiece of malfunction The Times
It's as though The Mousetrap has been taken over by Monty Python What's On Stage
I feared I was going to hyperventilate Daily Mail
Beoordeling door klanten
Wat kunt u verwachten:
Acteerwerk
Muziek
Kostuums
Verhaal
Belichting
Aanbevolen voor:
Iedereen
Families
Tieners
Koppels
Theatergangers
Op basis van 1085 beoordelingen
I peed myself. Thrice. Absolutely hilarious show!
Floris London Box Office klant
Hilarisch
Ongelooflijk grappig. In een deuk gelegen gedurende bijna de hele voorstelling. Heerlijk ongegeneerd lachen.
Nelly London Box Office klant
er zo over dat het terug grappig is
Het was in het algemeen een goed en leuk stuk tot na de pauze. dan was het er te veel over, te veel door elkaar geroep, gewoon TE.....
wim London Box Office klant
Lachen, gieren, brullen
Een stuk waar je van begin tot einde heel de tijd moet lachen. Echt geweldig. Lang geleden dat ik nog zo heb gelachen met een toneelstuk.
Nathalie London Box Office klant
HI-LA-RISCH
Van begin tot einde goed gelachen. Geweldige acteurs en perfect samenspel gezien in een van de moeilijkste genres. Zorg dat je goed op tijd aanwezig bent in de zaal, want voor het stuk is er al vanalles gaande.
Kristof London Box Office klant
Uiterst komisch
Briljante voorstelling waarbij je onmogelijk op je stoel kunt blijven zitten van het lachen.
Sjaak London Box Office klant
Amusant
Chris London Box Office klant
entertaining
Hilarische voorstelling, schitterend concept en heel goed geacteerd. Het einde was vermoeiend door de chaos.
Catrien London Box Office klant
Hilarische voorstelling
Een enorm grappige show. Goede acteurs die het stuk helemaal tot leven brengen en het publiek goed bij de show betrekken. Wij hebben gelachen tot de tranen over onze wangen liepen!
Anne London Box Office klant
hoog niveau
Hilarische voorstelling op hoog niveau. Echt Engelse humor! knappe improvisaties/interactie met het publiek; kortom geweldige voorstelling
A P London Box Office klant
Pythoneske hilariteit
Als je houdt van absurde Britse humor, dan is The Play That Goes Wrong iets voor jou! Denk Monty Python meets Agatha Christie, zowel visuele als verbale humor van de bovenste plank. Hilarisch, van minuut één tot het einde! Een beetje begrip van het Engels is wel vereist. Top!
Anoniem
2 uur lachen en gieren
Fawlty Towers, maar dan tijdens een stuk over een moordmisterie. Gelachen tot we buikpijn hadden, van begin tot eind. Een avondje complex-loos theater; genieten!
Anoniem
Gebruik het zoekvak dat u links bovenaan deze pagina vindt om te zoeken naar tickets voor The Play That Goes Wrong.
London
Box Office

Belofte
Kies uw zitplaatsen tijdens het boeken
Veilig online boeken
Levering 100% gegarandeerd!
Geen verborgen kosten

Adres van het theater
Duchess Theatre
3-5 Catherine Street, London, WC2B 5LA GB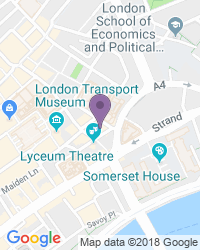 Faciliteiten
Bar
Invalidentoiletten
Infrarood hoorlus
Lid van
Toiletten
Rolstoeltoegang
Informatie over het theater
Capaciteit: 475
Bouwjaar: 1929
Volgende Voorstellingen