Old Vic Theatre
103 The Cut, London, SE1 8NB GB
Speelt nu in
Old Vic Theatre
A Christmas Carol
Old Vic Theatre
4,7/5
-

Op basis van

10

beoordelingen - (Beoordelingen)
4,7

10

beoordelingen
Tickets vanaf 28,49€
Families (90%)
Koppels (100%)
Theatergangers (100%)
i
Matthew Warchus' big-hearted, smash hit production of Charles Dickens' immortal classic returns to The Old Vic, joyously adapted for the stage by Jack Thorne (Harry Potter and the Cursed Child).
Boeking tot: zaterdag, 18 januari 2020
A Christmas Carol tickets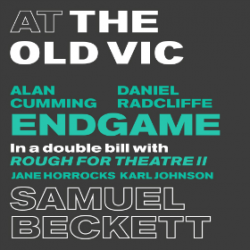 Endgame
Old Vic Theatre
Tickets vanaf 27,99€
Go and get two bicycle-wheels.'
'There are no more bicycle-wheels.'
'What have you done with your bicycle?'
'I never had a bicycle.'
Nothing stirs outside. In a bare room, Hamm, an old, blind tyrant, is locked in a stalemate with his servant Clov. Interrupted only by the nostalgic musings of Hamm's ancient, dustbin-dwelling parents, this bleakly funny double act cling stubbornly to their routine of casual savagery and mutual dependence.
Richard Jones (The Hairy Ape, Into the Woods) directs Beckett's macabre comedy in which hope and cruelty are the last things to die.
Endgame will be presented in a double bill with Samuel Beckett's rarely seen short play Rough for Theatre II, performed by members of the company.
Boeking van: zaterdag, 1 februari 2020
Boeking tot: zaterdag, 28 maart 2020
Endgame tickets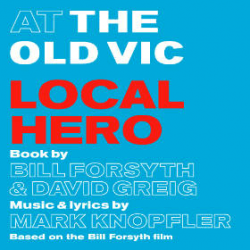 Local Hero
Old Vic Theatre
Tickets vanaf 42,49€
'Knox Oil will consider any price.'
'I tell you what, Mister Mac, how about this: a dollar for every grain of sand in my hand?'
Ambitious Texan oil executive Mac MacIntyre arrives in Scotland on a mission to buy a small seaside village and replace it with a refinery. It's the deal of a lifetime, but Mac soon finds that putting a price on this beautiful spot is more complicated than he bargained for. Before the locals get rich, they must decide what their home is worth.
The hit comedy film Local Hero takes to the stage as John Crowley (Brooklyn, The Goldfinch) directs a new musical adaptation by Bill Forsyth and David Greig (Dr. Seuss's The Lorax) with music and songs by the legendary Mark Knopfler.
Boeking van: woensdag, 24 juni 2020
Boeking tot: zaterdag, 22 augustus 2020
Local Hero tickets
Old Vic Theatre Faciliteiten
Airconditioning
Bar
Invalidentoiletten
Infrarood hoorlus
Toiletten
Rolstoeltoegang
Locatie van Old Vic Theatre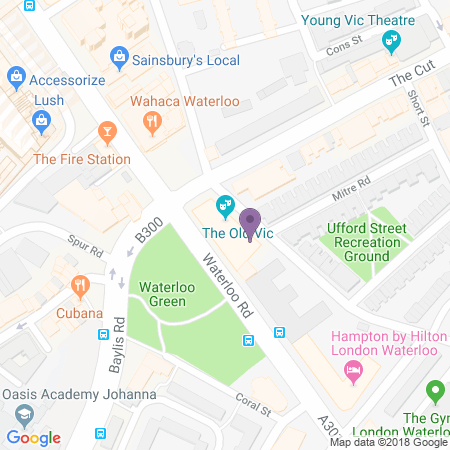 Routebeschrijving
Reisinformatie
Dichtstbijzijnde metrostation
Dichtstbijzijnde treinstation
Dagbussen
(Waterloo Road) 1, 4, 26, 59, 68, 139, 168, 171, 172, 176, 188, 521, X68; (Mepham Street) 211, 243, 507
Nachtbussen
(Waterloo Road) 139, 176, 188, N1, N68, N171; (Mepham Street) 243