Garrick Theatre
2 Charing Cross Road, London, WC2H 0HH GB
Speelt nu in
Garrick Theatre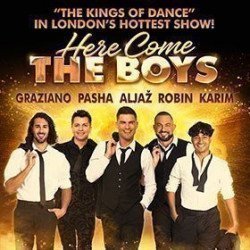 Here Come The Boys
Garrick Theatre
Tickets vanaf 34,49€
Boeking tot: zaterdag 15 mei 2021
Looptijd: 2 hours (one interval)
Here Come The Boys tickets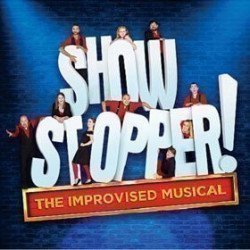 Opent 5 jul 2021
Opent 5 juli 2021
Showstopper! The Improvised Musical
Garrick Theatre
4,8/5
-

Op basis van

35

beoordelingen - (Beoordelingen)
4,8

35

beoordelingen
Tickets vanaf 20,99€
Koppels (94%)
Theatergangers (100%)
i
There's no stopping The Showstoppers!
With twelve years as an Edinburgh Festival must-see phenomenon, a critically acclaimed West End run and an Olivier Award to their name, The Showstoppers have blazed a trail in world class improvised comedy and delighted audiences across the globe. Now, with well over 1000 performances under their belts, they're back in a new home at the Garrick Theatre for a limited run of singular, one-night-only musical extravaganzas.
Boeking van: maandag 5 juli 2021
Boeking tot: maandag 7 juni 2021
Looptijd: 1 hour 15 minutes (no interval)
Showstopper! The Improvised Musical tickets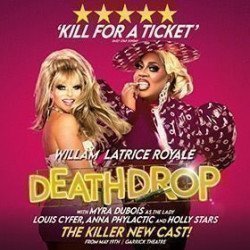 Opent 19 mei 2021
Opent 19 mei 2021
Death Drop
Garrick Theatre
Tickets vanaf 27,99€
The smash hit sold-out sensation sashays back into the West End.
Legendary RuPaul's Drag Race superstarsWillam and Latrice Royale are joined by star of Britain's Got Talent Myra DuBois in the sold-out
killer comedy Death Drop as it sashays back into the West End for a limited season.
Boeking van: woensdag 19 mei 2021
Boeking tot: zondag 11 juli 2021
Death Drop tickets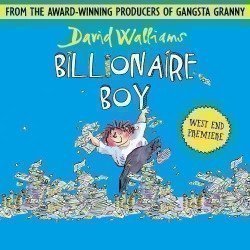 Opent 17 jul 2021
Opent 17 juli 2021
Billionaire Boy
Garrick Theatre
Tickets vanaf 27,49€
From the award-winning West End producers of Gangsta Granny comes this amazing new production of David Walliams' best-selling story Billionaire Boy!
Joe Spud is twelve years old and the richest boy in the country! He has his own sports car, two crocodiles as pets and £100,000 a week pocket money! But what Joe doesn't have is a friend. So he decides to leave his posh school and start at the local comp. But things don't go as planned for Joe and life becomes a rollercoaster as he tries to find what money can't buy!
Following a sell-out run of Gangsta Granny at the Garrick Theatre in 2017, Birmingham Stage Company are delighted to return to the Garrick this summer with Billionaire Boy.
Boeking van: zaterdag 17 juli 2021
Boeking tot: zondag 22 augustus 2021
Billionaire Boy tickets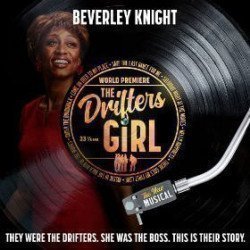 Opent 4 nov 2021
Opent 4 november 2021
The Drifters Girl
Garrick Theatre
Tickets vanaf 27,99€
THEY WERE THE DRIFTERS. SHE WAS THE BOSS. THIS IS THEIR STORY.
Coming to the West End Autumn 2021, discover the remarkable story of THE DRIFTERS, one of the world's greatest vocal groups, and the truth about the woman who made them.
Boeking van: donderdag 4 november 2021
Boeking tot: zaterdag 26 maart 2022
Met: Beverley Knight
The Drifters Girl tickets
Garrick Theatre Faciliteiten
Airconditioning
Bar
Invalidentoiletten
Infrarood hoorlus
Lid van Q-Park scheme
Toiletten
Rolstoeltoegang
Garrick Theatre Toegangstickets
Gehandicapte theaterbezoekers en hun begeleiders kunnen kortingskaartjes krijgen. Naam telefonisch contact op met het Garrick Theatre op 033 0333 4815.
Locatie van Garrick Theatre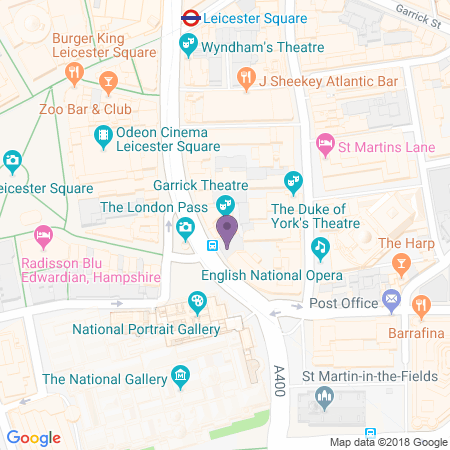 Routebeschrijving
Reisinformatie
Dichtstbijzijnde metrostation
Leicester Square

Charing Cross
Dichtstbijzijnde treinstation
Metrolijnen
Northern
Piccadilly
Bakerloo
Dagbussen
(Charing Cross Road) 24, 29, 176; (Strand) 6, 9, 11, 13, 15, 23, 87, 91, 139
Nachtbussen
(Charing Cross Road) 24, 176, N5, N20, N29, N41, N279; (Strand) 6, 23, 139, N9, N11, N13, N15, N21, N26, N44, N47, N87, N89, N91, N155, N343, N551