Apollo Theatre
31 Shaftesbury Avenue, London, W1D 7ES GB
Speelt nu in
Apollo Theatre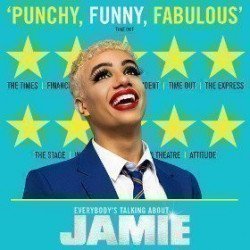 Everybody's Talking About Jamie
Apollo Theatre
4,7/5
-

Op basis van

182

beoordelingen - (Beoordelingen)
4,7

182

beoordelingen
Tickets vanaf 28,49€
Koppels (86%)
Theatergangers (90%)
i
Inspired by a true story, Everybody's Talking About Jamie is the award-winning hit musical that everybody is talking about.
Jamie New is sixteen and lives on a council estate in Sheffield. Jamie doesn't quite fit in.
Jamie is terrified about the future. He is going to be a sensation.
Supported by his brilliant loving mum and surrounded by his friends, Jamie overcomes prejudice, beats the bullies and steps out of the darkness, into the spotlight.
Boeking tot: zaterdag 29 augustus 2020
Looptijd: 2 hours 40 minutes
Everybody's Talking About Jamie tickets
Geen
boekingskosten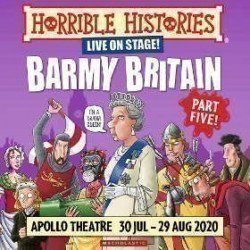 Horrible Histories - Barmy Britain - Part 5
Apollo Theatre
Tickets vanaf 22,49€
We all want to meet people from history. The trouble is everyone is dead!
So BARMY BRITAIN is back with a brand-new show full of crazy new characters and rude new rulers from Britain's barmy past!
Will you conquered by King William? Will you sink or swim with King Henry I? Will Thomas Becket get the chop? Go house hunting with King Henry VIII! Are you scared to scale the Tudor scaffold? Join the gorgeous Georgians as they take over England! Break into Buckingham Palace and hide from the Queen! Watch out for the witch of World War Two!
Britain's favourite history show is back in the West End with a brand-new production!
It's history with the nasty bits left in!
Boeking van: donderdag 30 juli 2020
Boeking tot: zaterdag 29 augustus 2020
Looptijd: 70 Minutes
Horrible Histories - Barmy Britain - Part 5 tickets
Apollo Theatre Faciliteiten
Airconditioning
Bar
Invalidentoiletten
Infrarood hoorlus
Lid van Q-Park scheme
Toiletten
Rolstoeltoegang
Apollo Theatre Toegangstickets
Gehandicapte theaterbezoekers en hun begeleiders kunnen kortingskaartjes krijgen. Naam telefonisch contact op met het Apollo Theatre op 033 0333 4815.
Locatie van Apollo Theatre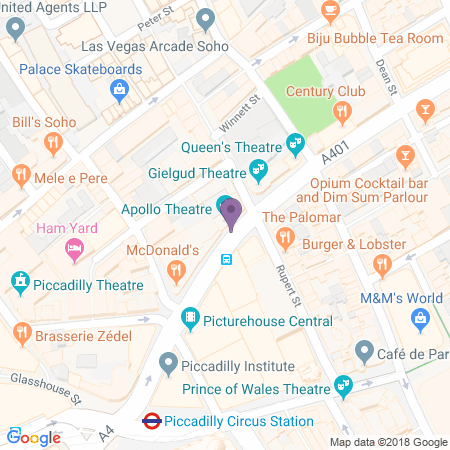 Routebeschrijving
Reisinformatie
Dichtstbijzijnde metrostation
Piccadilly Circus

Leicester Square
Dichtstbijzijnde treinstation
Metrolijnen
Bakerloo
Piccadilly
Northern
Dagbussen
(Shaftesbury Avenue) 12, 14, 19, 38; (Regent Street) 6, 13, 15, 23, 88, 94, 139, 159, 453
Nachtbussen
(Shaftesbury Avenue) 14, N19, N38; (Regent Street) 6, 12, 23, 88, 94, 139, 159, 453, N3, N13, N15, N109, N18, N136