Prince of Wales Theatre
31 Coventry Street, London, W1D 6AS GB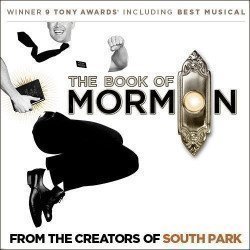 The Book of Mormon
Op basis van

3550

beoordelingen
Prince of Wales Theatre
Boeking tot: Saturday, 22 June 2019
Tickets

boeken
Tijden voorstelling
Mon
Tue
Wed
Thu
Fri
Sat
Sun
14:30
14:30
19:30
19:30
19:30
19:30
19:30
19:30
Leeftijdsbeperkingen
Rolling Stone siger, "South Park's geni har ramt Broadway, og historien er lavet. Mormon er på vej til at blive en legende ".
Belangrijke informatie
Er wordt gevloekt en er worden seksueel geladen, onbeschofte opmerkingen gemaakt.
Boeking tot:
Saturday, 22 June 2019
The Book of Mormon – Religieuze satire op zijn best
Als u snel beledigd bent, mag u zeker niet op de knop 'tickets kopen' klikken! The Book of Mormon is hilarisch. Maar het is leuk voor volwassenen, onbeleefd en oneerbiedig, met veel seksuele inhoud en eindeloze mogelijkheden om gevoelige mensen te beledigen. Bijgevolg zijn personen jonger dan 17 jaar niet toegelaten en deze show wordt best vermeden als u uw muzikale entertainment liever licht en luchtig houdt.
Als u houdt van South Park, dan is dit iets voor u. De musical werd geschreven door Trey Parker en Matt Stone, die eveneens de bedenkers van de populaire cartoon voor volwassen zijn, begeleid door Robert Lopez, de bedenker van Avenue Q.
Dit is religieuze satire van topklasse, met een zeer scherpe rand. Het verhaal? Twee Mormonen worden naar Oeganda gestuurd om de lokale bevolking te bekeren. Maar ze stuiten op vijandigheid, en bijna alles gaat spectaculair en hilarisch fout.
De personages? Kevin Price droomt ervan om het woord van God in Orlando te verspreiden, hij is dus niet zo gelukkig als hij naar Oeganda wordt gestuurd. Arnold Cunningham is onzeker en heeft overgewicht, hij "verstaat" niet echt zijn eigen godsdienst, is een dwangmatige leugenaar en maakt zo vaak als hij kan ongepaste verwijzingen naar Star Wars. McKinley is het mormoonse hoofd van de Oegandese missie, een homo die zijn gevoelens onderdrukt door ze uit te schakelen, net zoals een lichtschakelaar. Mafala Hatimbi is het stamhoofd en Nabulungi is zijn prachtige dochter, die voor de zendelingen zorgt. Na verloop van tijd beginnen de Mormonen zich vragen te stellen over hun geloof, elkaar en hun situatie...
Reserveer nu uw tickets voor The Book of Mormon, via onze website, en bereid u voor op een avond vol ondeugende, provocerende en fantastische entertainment met bekroonde muziek, licht, geluid, regie en orkestratie, winnaar van negen Tony Awards, genomineerd voor zes Outer Critics Circle Awards en twaalf Drama Desk Awards. Gewoon klasse!
Ga in Londen naar The Book of Mormon kijken! We kunnen u helpen om tot 70% te besparen op tickets voor The Book of Mormon! Als u op zoek bent naar goedkope theatertickets raadpleeg dan onze laatste aanbiedingen voor The Book of Mormon in Prince of Wales Theatre.
1

Geen boekingskosten

Tickets

vanaf 31.99€
Valid Wednesday Matinee performances until 22 Jun 2019.. .
Beoordeling door de pers
An unstoppable hit. Damnably clever and sharp. The Daily Telegraph
It's the hit of the year. Surprising, beguiling absurdity, and daring at every level. The Times
The most talked about show in London. A blast of often goofy, sometimes glorious musical comic delight. This show is the real deal. The Stage
I absolutely loved it. Seriously inspired and absolutely uproarious. The Independent
The Book of Mormon is viciously funny. Spirited and refreshing; joyous and even cuddly. Its defining feature is a filthy irreverence – an infatuation with making fun of everything, including itself. Evening Standard
Beoordeling door klanten
Wat kunt u verwachten:
Acteerwerk
Muziek
Kostuums
Verhaal
Belichting
Aanbevolen voor:
Iedereen
Families
Tieners
Koppels
Theatergangers
Op basis van 3550 beoordelingen
Geweldig
sanne London Box Office klant
hilarisch
Erg grappig, maar wel behoorlijk grof, daar moet je tegen kunnen. Ik zou er zo weer heen gaan, erg origineel
Jeroen London Box Office klant
Spectaculair
Top geacteerd maatschappelijk kritisch erg leuke en goede muziek en dans. Zeer humorlvol.
renate London Box Office klant
Challenging
Laura London Box Office klant
in een woord, geweldig
Peter London Box Office klant
Leuk, grappig maar voorspelbaar
Grappen waren geforceerd, acteerwerk en zang goed gedaan!
Saskia London Box Office klant
Geweldig
Deborah London Box Office klant
Excellent, hilarious, extremely funny!
Best musical ever if you don't mind joking about religion and specially Mormons.
Rudy London Box Office klant
Geweldig
Ontzettend leuk. Er wordt geen blad voor de mond gehouden, net zoals Matt Stone en Trey Parker, de makers van south park, eigenlijk nooit doen. Ondanks het humouristische aspect zit er ook zeker een goeie boodschap in als je een beetje langs de grappen heen kijkt!
Christel London Box Office klant
Amazing
Fabienne London Box Office klant
hilarisch
fantastische energieke show
Filip London Box Office klant
Geweldig
Super namiddag beleefd dankzij dit geweldig stuk Lachen doe je zeker
Maud London Box Office klant
Voortreffelijk plat
Prachtig toneelstuk die je op grappige wijze een geloofsovertuiging 'doet proeven'
Marie Antoinette London Box Office klant
Enig
Het grove taalgebruik is voor mij geen belemmering geweest. Sommige cabaretiers in Nederland zijn grover.
Deborah London Box Office klant
Fantastisch!
Briljant!
Adriaan London Box Office klant
Hilarious
Alex London Box Office klant
Mormonious!!
geweldige show. Niet spectaculair maar is ook niet nodig. Verhaal is top met veel humor. Als je zit te wachten op grof taalgebruik of godslastering zou ik deze show niet aanraden. Als dit geen probleem is dan is dit een MUST SEE!! Wij hebben ons kostelijk vermaakt!
robertjan London Box Office klant
Exceeding expectations !
Ronald London Box Office klant
funniest musical ever
saskia London Box Office klant
Very funny, even if you're not a musical fan
Funny story, excellent lead actors except for the girl. Her voice really hurts your ears. As a non musical lover, the show could be 20 minutes or so shorter.
Marieke London Box Office klant
awesome
Maxime London Box Office klant
muzikaal perfect en erg grappig
Anoniem
Fantastische eerste musicalervaring
Anoniem
Gebruik het zoekvak dat u links bovenaan deze pagina vindt om te zoeken naar tickets voor The Book of Mormon.
London
Box Office

Belofte
Kies uw zitplaatsen tijdens het boeken
Veilig online boeken
Levering 100% gegarandeerd!
Geen verborgen kosten

Adres van het theater
Prince of Wales Theatre
31 Coventry Street, London, W1D 6AS GB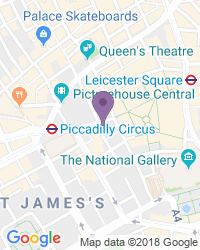 Faciliteiten
Luchtgekoeld
Airconditioning
Bar
Invalidentoiletten
Infrarood hoorlus
Lid van
Toiletten
Rolstoeltoegang
Informatie over het theater
Capaciteit: 1125
Bouwjaar: 1884
Volgende Voorstellingen