Duke of York's Theatre
104 St Martin's Lane, London, WC2N 4BG GB
Speelt nu in
Duke of York's Theatre
Duke of York's Theatre
Tickets vanaf 136,99€
This Autumn, ANDREW SCOTT features in SIMON STEPHENS' adaptation of Anton Chekhov's masterpiece.
Boeking tot: zaterdag 21 oktober 2023
Looptijd: The show running time is approximately 100 minutes with no interval.
Met: Andrew Scott
Vanya tickets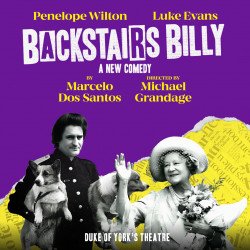 Opent 27 okt 2023
Opent 27 oktober 2023
Backstairs Billy
Duke of York's Theatre
Tickets vanaf 41,49€
Penelope Wilton (Downton Abbey, Ever Decreasing Circles) and Luke Evans (Beauty and the Beast, Nine Perfect Strangers) star in Marcelo Dos Santos' hilarious new comedy Backstairs Billy, directed by Tony and Olivier award-winning director Michael Grandage.
Boeking van: vrijdag 27 oktober 2023
Boeking tot: zaterdag 27 januari 2024
Met: Luke Evans, Penelope Wilton
Backstairs Billy tickets
Opent 6 feb 2024
Opent 6 februari 2024
An Enemy of the People
Duke of York's Theatre
What is truth without power?
Boeking van: dinsdag 6 februari 2024
Boeking tot: zaterdag 6 april 2024
Looptijd: 2 hours plus an interval
Met: Matt Smith
An Enemy of the People tickets
Duke of York's Theatre Faciliteiten
Airconditioning
Bar
Invalidentoiletten
Infrarood hoorlus
Lid van Q-Park scheme
Toiletten
Rolstoeltoegang
Duke of York's Theatre Toegangstickets
Gehandicapte theaterbezoekers en hun begeleiders kunnen kortingskaartjes krijgen. Naam telefonisch contact op met het Duke of York's Theatre op 0333 009 5399.
Locatie van Duke of York's Theatre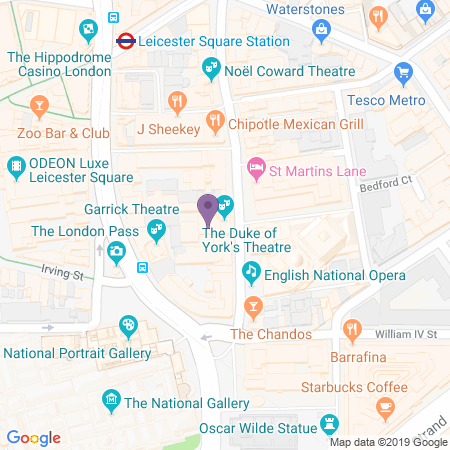 Routebeschrijving
Reisinformatie
Dichtstbijzijnde metrostation
Leicester Square

Charing Cross
Dichtstbijzijnde treinstation
Dagbussen
(Charing Cross Road) 24, 29, 176; (Strand) 6, 9, 11, 13, 15, 23, 87, 91, 139
Nachtbussen
(Charing Cross Road) 24, 176, N5, N20, N29, N41, N279; (Strand) 6, 23, 139, N9, N15, N11, N13, N21, N26, N44, N47, N87, N89, N91, N155, N343, N551