Duke of York's Theatre
104 St Martin's Lane, London, WC2N 4BG GB
Speelt nu in
Duke of York's Theatre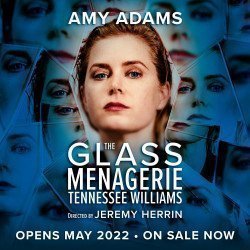 open
The Glass Menagerie
Duke of York's Theatre
4,3/5
-

Op basis van

30

beoordelingen - (Beoordelingen)
4,3

30

beoordelingen
Tickets vanaf 27,99€
Six time Academy Award nominated actress Amy Adams makes her West End debut in a new production of Tennessee Williams's celebrated memory play, The Glass Menagerie
Boeking tot: zondag 28 augustus 2022
Met: Amy Adams
The Glass Menagerie tickets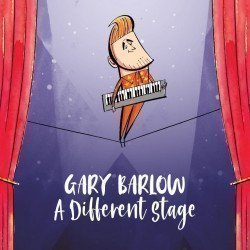 Opent 30 aug 2022
Opent 30 augustus 2022
A Different Stage
Duke of York's Theatre
Boeking van: dinsdag 30 augustus 2022
Boeking tot: zondag 18 september 2022
Met: Gary Barlow
A Different Stage tickets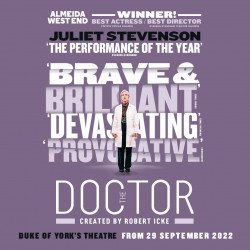 Opent 29 sep 2022
Opent 29 september 2022
The Doctor
Duke of York's Theatre
Tickets vanaf 20,99€
The Guardian, The Telegraph, Financial Times, The Sunday Times, WhatsOnStage Olivier Award winner Juliet Stevenson "'delivers one of the peak performances of the theatrical year" (The Guardian) in The Doctor: the West End transfer of Robert Icke's sold-out, five-star Almeida Theatre production from 29th September 2022 at the Duke of York's Theatre.
Boeking van: donderdag 29 september 2022
Boeking tot: zondag 11 december 2022
Looptijd: 2 Hours and 45 Minutes
Met: Juliet Stevenson
The Doctor tickets
Duke of York's Theatre Faciliteiten
Airconditioning
Bar
Invalidentoiletten
Infrarood hoorlus
Lid van Q-Park scheme
Toiletten
Rolstoeltoegang
Duke of York's Theatre Toegangstickets
Gehandicapte theaterbezoekers en hun begeleiders kunnen kortingskaartjes krijgen. Naam telefonisch contact op met het Duke of York's Theatre op 080 0912 6971.
Locatie van Duke of York's Theatre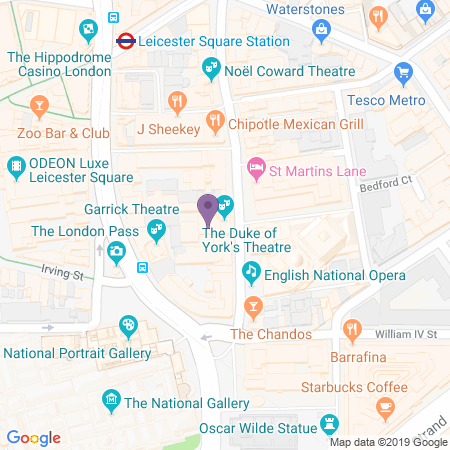 Routebeschrijving
Reisinformatie
Dichtstbijzijnde metrostation
Leicester Square

Charing Cross
Dichtstbijzijnde treinstation
Metrolijnen
Northern
Piccadilly
Bakerloo
Dagbussen
(Charing Cross Road) 24, 29, 176; (Strand) 6, 9, 11, 13, 15, 23, 87, 91, 139
Nachtbussen
(Charing Cross Road) 24, 176, N5, N20, N29, N41, N279; (Strand) 6, 23, 139, N9, N15, N11, N13, N21, N26, N44, N47, N87, N89, N91, N155, N343, N551