St Martins Theatre
West Street, London, WC2H 9NZ GB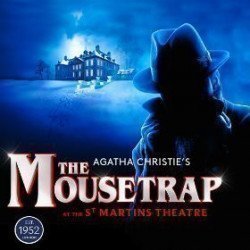 Mousetrap
Op basis van

796

beoordelingen
St Martins Theatre
Boeking tot: Saturday, 28 March 2020
Tickets

boeken
Ga in Londen naar Mousetrap kijken! We kunnen u helpen om tot 70% te besparen op tickets voor Mousetrap! Als u op zoek bent naar goedkope theatertickets raadpleeg dan onze laatste aanbiedingen voor Mousetrap in St Martins Theatre.
1

Geen boekingskosten

Tickets

vanaf 34.49€
Valid Mon-Fri from 1 May - 29 Jun. Book by 31 May 2019.. .
Beoordeling door de pers
A beautifully preserved example of a country house murder mystery The Stage
Beoordeling door klanten
Wat kunt u verwachten:
Acteerwerk
Muziek
Kostuums
Verhaal
Belichting
Aanbevolen voor:
Iedereen
Families
Tieners
Koppels
Theatergangers
Op basis van 796 beoordelingen
Heerlijke nostalgie!
Schattig klein theater. Leuke voorstelling.
Denise London Box Office klant
Klassiek theater
Harrie London Box Office klant
onderhoudend
Een echt Engels toneelstuk, soepel gespeeld, je wordt er in het verhaal getrokken en er ontstaan discussies in de pauze wie het gedaan zou kunnen hebben. Onderhoudend en leuk in een prachtig theater.
Fieke London Box Office klant
Best kept secret! Must see!
Lekker klassiek stuk. Typisch Brits. Ietwat gedateerd (uiteraard), maar Agatha Christie is tijdloos! Goed te volgen voor 'anders taligen'. Sterke opbouw van verhaal, geniaal plot!
Patrick London Box Office klant
heel langdradig
slecht: er waren zeer goede acteurs bij maar er werd veel aan overacting gedaan. Ik verwachtte een thriller te zien maar het was eerder een komedie. Flauw verhaal en zéér langdradig ! Mijn partner viel zelfs in slaap !
Mildred London Box Office klant
Great plot, fun to watch, With great nostalgia for Agatha Christie's time
Friedly and helpful staff, we were amused the whole evening.
Johanna London Box Office klant
A classic. If,you love the genre.
Dirk London Box Office klant
Entertaining 'who did it' story.
Hedwig London Box Office klant
Even terug in de tijd..
Anoniem
Past er perfect bij
Het is echt een klassieker die iedereen eens gezien MOET hebben! Een echte Agatha Christie in het juiste theater, juiste acteurs echt alles in de perfecte setting.
Anoniem
Gebruik het zoekvak dat u links bovenaan deze pagina vindt om te zoeken naar tickets voor Mousetrap.
London
Box Office

Belofte
Kies uw zitplaatsen tijdens het boeken
Veilig online boeken
Levering 100% gegarandeerd!
Geen verborgen kosten

Adres van het theater
St Martins Theatre
West Street, London, WC2H 9NZ GB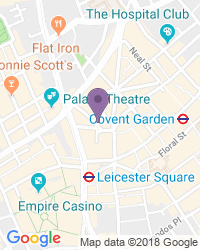 Faciliteiten
Airconditioning
Bar
Invalidentoiletten
Infrarood hoorlus
Lid van Q-Park scheme
Toiletten
Rolstoeltoegang
Informatie over het theater
Capaciteit: 553
Bouwjaar: 1916
Volgende Voorstellingen