Gielgud Theatre
35-37 Shaftesbury Avenue, London, W1D 6AR GB
Speelt nu in
Gielgud Theatre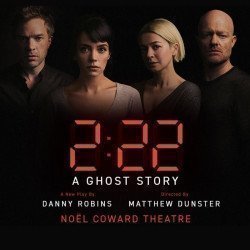 open
2:22 A Ghost Story
Gielgud Theatre
Boeking tot: zaterdag 12 februari 2022
Met: Lily Allen
2:22 A Ghost Story tickets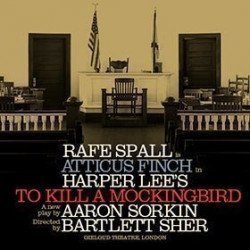 Opent 10 mrt 2022
Opent 10 maart 2022
To Kill A Mockingbird
Gielgud Theatre
Tickets vanaf 35,49€
★★★★★
"All rise for the miracle that is 'Mockingbird'. Unmissable and unforgettable. An American classic" - Rolling Stone, Peter Travers
Rafe Spall will play Atticus Finch in TO KILL A MOCKINGBIRD, Aaron Sorkin's new play based on Harper Lee's Pulitzer Prize-winning novel, directed by Bartlett Sher, which opens at the Gielgud Theatre in March 2022.
Harper Lee's enduring story of racial injustice and childhood innocence has sold 45 million copies worldwide. On Broadway the production has not played to an empty seat and has become the most successful American play in Broadway history.
"It will change how you see the world. This is what great theater is for. Aaron Sorkin's 'Mockingbird' is filled with deep compassion and overwhelming humanity. Do not miss it." - NY Post
"A 'Mockingbird' for our moment. Beautiful, elegiac, satisfying, even exhilarating" - New York Times
Boeking van: donderdag 10 maart 2022
Boeking tot: zaterdag 13 augustus 2022
Looptijd: 2 hours 35 minutes (One interval)
Met: Rhys Ifans
To Kill A Mockingbird tickets
Gielgud Theatre Faciliteiten
Luchtgekoeld
Bar
Invalidentoiletten
Infrarood hoorlus
Lid van Q-Park scheme
Toiletten
Rolstoeltoegang
Gielgud Theatre Toegangstickets
Gehandicapte theaterbezoekers en hun begeleiders kunnen kortingskaartjes krijgen. Naam telefonisch contact op met het Gielgud Theatre op 034 4482 5137.
Locatie van Gielgud Theatre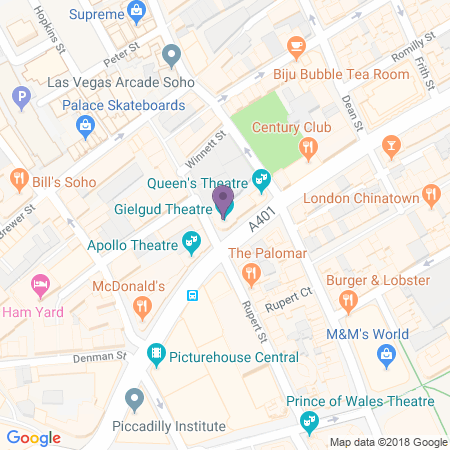 Routebeschrijving
Reisinformatie
Dichtstbijzijnde metrostation
Piccadilly Circus

Leicester Square
Dichtstbijzijnde treinstation
Metrolijnen
Bakerloo
Piccadilly
Northern
Dagbussen
(Shaftesbury Avenue) 12, 14, 19, 38; (Regent Street) 6, 13, 15, 23, 88, 94, 139, 159, 453
Nachtbussen
(Shaftesbury Avenue) 14, N19, N38; (Regent Street) 6, 12, 23, 88, 94, 139, 159, 453, N3, N13, N15, N109, N18, N136