Charing Cross Road, London, WC2H 0JP GB
Enkele feiten
Meeste tickets voor West End
Beschikbaarheid van zitplaatsen in real-time
Kies uw plaatsen
Uw boeking wordt direct verwerkt in het reserveringssysteem van de kassa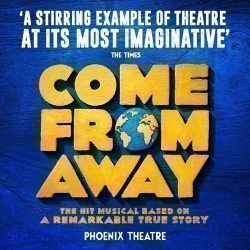 Come From Away
4,9/5
-

Op basis van

285

beoordelingen
Boeking tot: zaterdag 15 oktober 2022
Tickets vanaf 23,99€
Tickets Boeken
Informatie
Goedkope kaarten
Beoordelingen
Over Come From Away
Tijden voorstelling
Boeking tot: zaterdag 15 oktober 2022
Come From Away Beschrijving
WELCOME BACK TO THE ROCK!
Discover the remarkable true story of a small town that welcomed the world.
Winner of every major UK award for Best New Musical, Come From Away shares the incredible real-life story of the 7,000 air passengers from all over the world who were grounded in Canada during the wake of 9/11, and the small Newfoundland community that invited these 'come from aways' into their lives.
As uneasiness turned into trust and music soared into the night, gratitude grew into friendships and their stories became a celebration of hope, humanity and unity.
Awarded the Tony® for Best Direction of a Musical, Christopher Ashley's production guides audiences through a colourful and spirited cast of characters, brought to life by Olivier Award winning writing team Irene Sankoff and David Hein.
Come From Away is 100 minutes with no interval. Recommended for ages 10+.
Pre Visit Requirements (ATG)
Mask
We recommend that you wear a mask while inside this venue.
Proof of vaccine and/or test
You are required to show proof of a negative Covid-19 test or proof of vaccination in order to attend this performance.
Health check
When you arrive at this venue, you may be asked to fill out a health questionnaire or have your temperature taken.
Covid safety
This venue has additional Covid-19 safety measures in place to ensure the health and well-being of the staff, performers, and guests.
This venue is complying with the latest industry 'See It Safely' guidelines.
Volgende uitvoeringen voor Come From Away in het LYRIC THEATRE
donderdag
27 jan 2022
19:30
Goedkope tickets voor Come From Away
Ga in Londen naar Come From Away kijken! We kunnen u helpen om tot 70% te besparen op tickets voor Come From Away! Als u op zoek bent naar goedkope theatertickets raadpleeg dan onze laatste aanbiedingen voor Come From Away in Phoenix Theatre.
-25%
Was 38,99€
Nu 29,49€
Valid Mon-Sat until 28 Feb 2022.
-32%
Was 118,49€
Nu 80,49€
SAVE UP TO £51.90 ON BEST AVAILABLE TICKETS Valid Mon-Fri 12 January - 25 February 2022 and Mon-Sat 28 February - 9 April 2022 Book by 9 April 2022
Come From Away beoordelingen
4,9 uit 5
Op basis van

285

beoordelingen
Wat kunt u verwachten:
Acteerwerk
Muziek
Kostuums
Verhaal
Belichting
Aanbevolen voor:
Iedereen (86%)
Families (89%)
Tieners (91%)
Koppels (94%)
Theatergangers (98%)