Portugal Street, London, WC2A 2HT GB
Enkele feiten
Meeste tickets voor West End
Beschikbaarheid van zitplaatsen in real-time
Kies uw plaatsen
Uw boeking wordt direct verwerkt in het reserveringssysteem van de kassa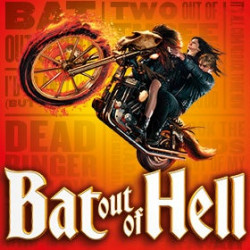 Bat Out of Hell
4,7/5
-

Op basis van

568

beoordelingen
Boeking van: vrijdag 17 februari 2023
Boeking tot: zaterdag 1 april 2023
Looptijd: 2 hour 40 minutes (incl. interval)
Met: Christina Bennington, Andrew Polec
Tickets vanaf 34,99€
Tickets Boeken
Informatie
Goedkope kaarten
Beoordelingen
Over Bat Out of Hell
Tijden voorstelling
Boeking van: vrijdag 17 februari 2023
Boeking tot: zaterdag 1 april 2023
Looptijd: 2 hour 40 minutes (incl. interval)
Met:
Christina Bennington, Andrew Polec
Bat Out of Hell Beschrijving
It's electrified audiences in London, New York, Toronto and Germany, and won the audience-voted Evening Standard Award for Best New Musical. Now, Jim Steinman's spectacular musical BAT OUT OF HELL hits the highway on UK tour in 2022.
This award-winning wild child musical thunders through Meat Loaf's legendary powerhouse anthems including: I'd Do Anything For Love (But I Won't Do That), Paradise By The Dashboard Light, Two Out Of Three Ain't Bad, Dead Ringer For Love and Bat Out of Hell, in an over the top theatrical spectacle unlike any other.
The best night out – guaranteed (with your clothes on!)
Bat Out of Hell dedicates this tour to the memory of Jim Steinman (November 1, 1947 – April 19, 2021) and Meat Loaf (September 27, 1947 – January 20, 2022) 
BSL interpreted Performances: Sat 4 March at 2:30pm
Captioned Performances: Sat 11 March at 2:30pm, Sat 11 March at 7:30pm
Audio Described Performances: Sat 25 March at 2:30pm
Touch Tour Performances: Sat 25 March at 2:30pm
 
Belangrijke informatie
The show contains strobe lighting, haze and flame effects. The sound levels are very high throughout the show and there are scenes that include gunshots sound effects.                                                                                                                                                                       
Volgende uitvoeringen voor Bat Out of Hell in het LYRIC THEATRE
Goedkope tickets voor Bat Out of Hell
Ga in Londen naar Bat Out of Hell kijken! We kunnen u helpen om tot 70% te besparen op tickets voor Bat Out of Hell! Als u op zoek bent naar goedkope theatertickets raadpleeg dan onze laatste aanbiedingen voor Bat Out of Hell in Peacock Theatre.
Er zijn momenteel geen speciale aanbiedingen, maar we hebben nog steeds geweldige ticketprijzen voor Bat Out of Hell in Peacock Theatre.
Bat Out of Hell beoordelingen
4,7 uit 5
Op basis van

568

beoordelingen
Wat kunt u verwachten:
Acteerwerk
Muziek
Kostuums
Verhaal
Belichting
Aanbevolen voor:
Iedereen (62%)
Families (63%)
Tieners (81%)
Koppels (90%)
Theatergangers (88%)
Nieuwste recensies

Fijn theater direct bij metro ingang Tottenhamcourt op Oxford street in Londen
Beoordeeld op 03 januari 2019 door Lilian, Epe, Netherlands

Een bom energie met een voor een uitstekende zangers en dansersin deze
Beoordeeld op 15 december 2018 door Fred, Kontich, Belgium

Nostalgische herkenning
Je wordt meegenomen in de muziek van destijds. Het podium verandert meermaals en erg verrassende effecten. Dit is een show.....
Beoordeeld op 27 november 2018 door Edwin, Amsterdam, Netherlands

Rock on
Omdat je muziek van meatloaf kent, is het geweldig om te zien hoe ze een mooi verhaal hebben gemaakt! Top!
Beoordeeld op 19 augustus 2017 door Renate, Apeldoorn, Netherlands

great music for all ages!
Beoordeeld op 07 augustus 2017 door Jeannette, Ammerstol, Netherlands

totaalspektakel
Geweldige dans, zang en muziek voor iedereen! Specifiek voor fans van Meatloaf en Bat out of Hell niet te missen voorstelling
Beoordeeld op 18 juli 2017 door Sam, Belsele, Belgium