49 Aldwych, London, WC2B 4DF GB
Enkele feiten
Meeste tickets voor West End
Beschikbaarheid van zitplaatsen in real-time
Kies uw plaatsen
Uw boeking wordt direct verwerkt in het reserveringssysteem van de kassa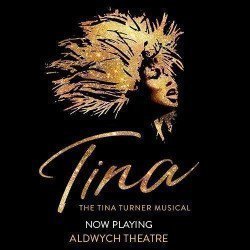 Tina The Musical
4,8/5
-

Op basis van

598

beoordelingen
Boeking tot: zondag 26 juni 2022
Looptijd: 2 hours 45 minutes
Tickets vanaf 14,49€
Tickets Boeken
Over Tina The Musical
Belangrijke informatie
Access performances:
Wednesday 14 October 2020, 7.30pm -  British Sign Language (BSL) interpreted Performance 
Tijden voorstelling
Boeking tot: zondag 26 juni 2022
Looptijd: 2 hours 45 minutes
Tina The Musical Beschrijving
From humble beginnings in Nutbush, Tennessee, to her transformation into the global Queen of Rock 'n' Roll, Tina Turner didn't just break the rules, she rewrote them. This new stage musical, presented in association with Tina Turner herself, reveals the untold story of a woman who dared to defy the bounds of her age, gender and race.
One of the world's best-selling artists of all time, Tina Turner has won 11 Grammy Awards and her live shows have been seen by millions, with more concert tickets sold than any other solo performer in music history.
Featuring her much loved songs, TINA - The Tina Turner Musical is written by Olivier Award-winning playwright Katori Hall and directed by the internationally acclaimed Phyllida Lloyd.
Important COVID Entry Requirements
Mask
You are required to wear a mask at all times while inside this venue.
Social distancing
You are required to keep distance from other audience members and the venue's staff while inside this venue
Covid safety
This venue has additional Covid-19 safety measures in place to ensure the health and well-being of the staff, performers, and guests.
This venue is complying with the latest industry 'See It Safely' guidelines.
Volgende uitvoeringen voor Tina The Musical in het LYRIC THEATRE
donderdag
5 aug 2021
14:30
donderdag
5 aug 2021
19:30
Tina The Musical beoordelingen
4,8 uit 5
Op basis van

598

beoordelingen
Wat kunt u verwachten:
Acteerwerk
Muziek
Kostuums
Verhaal
Belichting
Aanbevolen voor:
Iedereen (75%)
Families (78%)
Tieners (83%)
Koppels (94%)
Theatergangers (94%)
Nieuwste recensies

GREAT
Beoordeeld op 20 januari 2020 door Werner, Berkel-enschot, Netherlands

Niet te missen musical, ook voor niet-Tina fans
Het turbulente leven van Tina Turner wordt prachtig samengevat en uiteraard ondersteund door haar fantastische nummers. Geweldige finale, Tina was springlevend op het podium!
Beoordeeld op 29 december 2019 door Marcel, Begijnendijk, Belgium

Superemotioneleprachtige
We zaten heel goed. Alleen de stoelen zitten niet fijn...te weinig beenruimte. Onmogelijk dat mensen eten en drinken meemogen nemen naar de zaal
Beoordeeld op 07 december 2019 door Dorrie, Maastricht, Netherlands

Oplopend goed verhaal met knallend einde
Stroef begin maar prima einde
Beoordeeld op 01 juni 2019 door Andre, Nijmegen, Netherlands

een fascinerende middag gehad en volledig entertaining
Na het bekijken van youtube filmpjes op internet was de verwachting hooggespannen. Het was enigszins teleurstellend om dan de hoofdrol speelster van tweede keus te zien. Sommige liedjes kwamen niet goed uit de verf maar vooral de tweede helft was geweldig. Tina is niet te evenaren!
Beoordeeld op 04 januari 2019 door Ingrid, Haarlem, Netherlands

echte aanrader
Beoordeeld op 26 december 2018 door Agnetta, Wildervank, Netherlands

A must see!
Geweldige musical met topzangers en topzangeressen!
Beoordeeld op 16 december 2018 door Brenda, Heerde, Netherlands

entertaining
De hoofdrolspeelster (Tina) had een te schelle stem .Een te jonge uitstraling dansjes en pasjes waren exact goed maar de echte passie ontbrak
Beoordeeld op 26 november 2018 door Antonetta, Breda, Netherlands

Moet iedereen gezien hebben
Waanzinnige voorstelling. Verrassende uitvoeringen van Tina songs, geweldig gespeeld en gezongen door de hele cast.
Beoordeeld op 25 oktober 2018 door Bert, Houten, Netherlands

must see
Actrice zelfs beter dan echte Tine Turner.
Beoordeeld op 21 oktober 2018 door Fred, Helmond, Netherlands

Creatief
Verhaal en muziek vertellen het levensverhaal van Tina
Beoordeeld op 28 september 2018 door Leo, Spijkenisse, Netherlands

Wervelende show
Vanaf de 1e minuut vibreert de lucht en het swingt de pan uit. De vertolkster van Tina was geweldig, net als Ike. De beste musical die ik ooit heb gezien.
Beoordeeld op 29 augustus 2018 door Jan, Halsteren, Netherlands

Verpletterend
Vanaf minuut 1 zit je in Tina haar verhaal en wordt je door de liedjes meegenomen op haar levenspad, indrukwekkend. Je moet even wennen aan het Amerikaans accent waar mee gesproken wordt maar dat maakt het wel authentiek
Beoordeeld op 23 augustus 2018 door Gina, Beerta, Netherlands