3 Fulton Road, Wembley, London, HA9 8TS GB
Enkele feiten
Meeste tickets voor West End
Beschikbaarheid van zitplaatsen in real-time
Kies uw plaatsen
Uw boeking wordt direct verwerkt in het reserveringssysteem van de kassa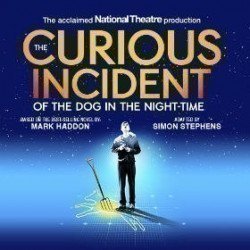 The Curious Incident of the Dog in the Night-Time
4,7/5
-

Op basis van

486

beoordelingen
Boeking van: vrijdag 1 januari 2021
Boeking tot: zondag 10 januari 2021
Looptijd: 2 hours 30 minutes
Tickets vanaf 23,99€
Tickets Boeken
Over The Curious Incident of the Dog in the Night-Time
Leeftijdsbeperkingen
Aanbevolen leeftijd: 13 jaar en ouder
Belangrijke informatie
This production contains strobe lighting, smoke effects, high intensity video & light effects, and loud sound effects. Suitable for 11yrs+
There is some strong language in this production, as there is in the novel. This occurs at the very beginning of the show and infrequently at other points during the show.
Latecomers will be asked to wait whilst watching the latecomers' monitor until a scene called 'The Street' before being allowed into the auditorium. This is approximately 15 minutes into Act 1. Audience members arriving after this time will be required to wait until the interval.
Tijden voorstelling
Boeking van: vrijdag 1 januari 2021
Boeking tot: zondag 10 januari 2021
Looptijd: 2 hours 30 minutes
The Curious Incident of the Dog in the Night-Time Beschrijving
The Daily Mail, Daily Telegraph, Evening Standard, Guardian, Independent, The Times, Time Out, Londonist, Sunday Times en vele andere kranten hebben deze prachtige productie geloofd, het werd als volgt beschreven; een wonder, een succes uit elke hoek die de diepte en ontroerende aard van de oorspronkelijke tekst vatte en met veel succes theatrale gevoeligheden toevoegde.
De regisseur, Marianne Elliott, heeft veel lof gekregen voor het regisseren - met dezelfde creatieve stijl en flair als in haar rol als co-regisseur in de hit War Horse. Je mag hetzelfde kwaliteitsniveau van The Curious Incident verwachten. In de woorden van The Times, als er ooit een perfect theatraal huwelijk was tussen prestaties en gevolg, dan is dit het.
Volgende uitvoeringen voor The Curious Incident of the Dog in the Night-Time in het LYRIC THEATRE
The Curious Incident of the Dog in the Night-Time beoordelingen
4,7 uit 5
Op basis van

486

beoordelingen
Wat kunt u verwachten:
Acteerwerk
Muziek
Kostuums
Verhaal
Belichting
Aanbevolen voor:
Iedereen (67%)
Families (71%)
Tieners (87%)
Koppels (87%)
Theatergangers (95%)
Nieuwste recensies

creatief
verhaal erg leuk in beeld gebracht
Beoordeeld op 08 augustus 2016 door Nancy, Brasschaat, Belgium

Modern voor de jeugd
Beoordeeld op 06 juni 2015 door Anoniem

The Curious Incident of "een must see" Voorstelling
De voorstelling is het meest interessant voor mensen die het boek hebben gelezen. Het fantastische decor is zo knap neergezet met veel technische snufjes ... echt verbazingwekkend! Samen met een unieke muziek "score". Het hele verhaal komt tot leven. Niet te vergeten de acteertalent van de jonge ster. Met andere woorden , dit is een "must see"voorstelling.
Beoordeeld op 29 mei 2015 door Anoniem

Indrukwekkend
Ook als je het boek hebt gelezen blijft het spel je aangenaam verrassen.
Beoordeeld op 29 augustus 2013 door Anoniem