Deze voorstelling is nu afgelopen.
Enkele feiten
Meeste tickets voor West End
Beschikbaarheid van zitplaatsen in real-time
Kies uw plaatsen
Uw boeking wordt direct verwerkt in het reserveringssysteem van de kassa
Deze voorstelling is nu afgelopen.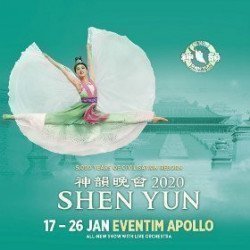 Shen Yun
3,5/5
-

Op basis van

27

beoordelingen
Over Shen Yun
Tijden voorstelling
Shen Yun Beschrijving
An enlightening journey through 5,000 years! 
SHEN YUN presents an epic production that expands the theatrical experience across time and space. We invite you on an inspiring journey into one of humanity's greatest treasures — five millennia of Chinese civilization.
Enter a world where philosophers and poets sought harmony with the Tao, or the "Way" of the universe, where maidens danced with ethereal grace and warriors trained with explosive vigor, where timeless tales of valor and virtue were born, where heaven and earth connected to inspire hope for humanity.
Featuring one of the world's oldest art forms — classical Chinese dance — along with patented interactive backdrops and all-original orchestral compositions, Shen Yun brings to life ancient China's enchanting beauty and profound wisdom. 
Traditional Chinese culture - with its deep spiritual roots and profound worldview - was displaced by communism in China. While Shen Yun cannot perform in mainland China today, we are reviving this precious heritage and sharing it with the world.