8 Haymarket, London, SW1Y 4HT GB
Enkele feiten
Meeste tickets voor West End
Beschikbaarheid van zitplaatsen in real-time
Kies uw plaatsen
Uw boeking wordt direct verwerkt in het reserveringssysteem van de kassa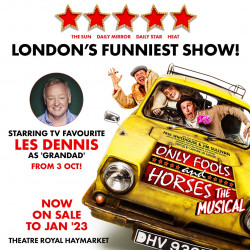 Only Fools and Horses
4,7/5
-

Op basis van

352

beoordelingen
Boeking tot: zaterdag 29 april 2023
Looptijd: 2 hours 30 minutes
Met: Paul Whitehouse, Ryan Hutton, Tom Bennett
Tickets vanaf 30,99€
Tickets Boeken
Informatie
Goedkope kaarten
Beoordelingen
Over Only Fools and Horses
Tijden voorstelling
Boeking tot: zaterdag 29 april 2023
Looptijd: 2 hours 30 minutes
Met:
Paul Whitehouse, Ryan Hutton, Tom Bennett
Only Fools and Horses Beschrijving
Mais ouis, mais ouis, the world may have changed a lot since we first bid a jovial 'au revoir' to the Trotters of Peckham, but good 'ol Del Boy, Rodney and the rest of the gang haven't changed a bit... well, apart from the odd spontaneous bursting into song here, and the occasional dancing across the market, there.
The landmark, record-breaking and top-rated television series Only Fools and Horses, written by the late, great John Sullivan, undoubtedly holds a special place in the hearts of the British public.  Now John's son Jim Sullivan has teamed up with comedy giant Paul Whitehouse to write and produce a script and score to honour his father's legacy; recreating the iconic series into a critically acclaimed, brand-new, home-grown British Musical spectacular.  Lovely Jubbly!
Tom Bennett (Del Boy), Ryan Hutton (Rodney) and Andy Mace (Grandad from 29th July) take centre stage in this unique showstopper.  Featuring cherished material from the TV series, the laughs, dodgy dealings and unforgettable moments to boot, join us as we take a trip back to 1989, get reacquainted with Britain's most loveable rogues and experience the classic comedy brought to life once again through an ingenious and hilarious original score; an idea so inexplicably pukka it surely proves the old adage that he who dares wins!
With musical contributions from Chas n Dave, the beloved theme tunes as you've never heard them before and an array of comic songs full of character and cockney charm, you're guaranteed to have a right knees-up!  Only Fools and Horses the Musical is a feel-good, family celebration of traditional, working class London life and the aspirations we all share.
Chris Bennett will perform the role of Del Boy on Monday performances.
Captioned performance is Tuesday 13th September 7.30pm
Audio Described show is on Tuesday 6th September 7.30pm - A touch tour of the stage and set is at 6pm (TBC)
Written by Paul Whitehouse and Jim Sullivan, fully endorsed by the Sullivan estate.
Sound CUSHTY?  Then book your tickets today - Only a forty-two carat PLONKER would miss it!
Book, Lyrics and Original Music by Paul Whitehouse & Jim Sullivan
Based on the programme 'Only Fools and Horses' written by John Sullivan
Additional music by John Sullivan & Chas Hodges
Directed by Caroline Jay Ranger
Leeftijdsbeperkingen
Suitable for 8+
Volgende uitvoeringen voor Only Fools and Horses in het LYRIC THEATRE
donderdag
23 mrt 2023
19:30
Goedkope tickets voor Only Fools and Horses
Ga in Londen naar Only Fools and Horses kijken! We kunnen u helpen om tot 70% te besparen op tickets voor Only Fools and Horses! Als u op zoek bent naar goedkope theatertickets raadpleeg dan onze laatste aanbiedingen voor Only Fools and Horses in Theatre Royal Haymarket.
Er zijn momenteel geen speciale aanbiedingen, maar we hebben nog steeds geweldige ticketprijzen voor Only Fools and Horses in Theatre Royal Haymarket.