103 The Cut, London, SE1 8NB GB
Enkele feiten
Meeste tickets voor West End
Beschikbaarheid van zitplaatsen in real-time
Kies uw plaatsen
Uw boeking wordt direct verwerkt in het reserveringssysteem van de kassa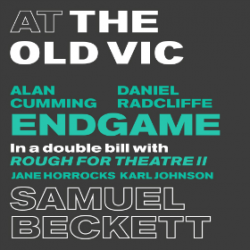 Endgame
Boeking tot: zaterdag 28 maart 2020
Tickets vanaf 28,99€
Tickets Boeken
Informatie
Goedkope kaarten
Over Endgame
Leeftijdsbeperkingen
Suitable for ages 14+.
Infrequent use of strong language.
Tijden voorstelling
Boeking tot: zaterdag 28 maart 2020
Endgame Beschrijving
Go and get two bicycle-wheels.'
'There are no more bicycle-wheels.'
'What have you done with your bicycle?'
'I never had a bicycle.'
Nothing stirs outside. In a bare room, Hamm, an old, blind tyrant, is locked in a stalemate with his servant Clov. Interrupted only by the nostalgic musings of Hamm's ancient, dustbin-dwelling parents, this bleakly funny double act cling stubbornly to their routine of casual savagery and mutual dependence.
Richard Jones (The Hairy Ape, Into the Woods) directs Beckett's macabre comedy in which hope and cruelty are the last things to die.
Endgame will be presented in a double bill with Samuel Beckett's rarely seen short play Rough for Theatre II, performed by members of the company.
Volgende uitvoeringen voor Endgame in het LYRIC THEATRE
donderdag
27 feb 2020
19:30
Goedkope tickets voor Endgame
Ga in Londen naar Endgame kijken! We kunnen u helpen om tot 70% te besparen op tickets voor Endgame! Als u op zoek bent naar goedkope theatertickets raadpleeg dan onze laatste aanbiedingen voor Endgame in Old Vic Theatre.
-38%
Was 47,99€
Nu 29,99€
Valid Matinees from 6 Feb - 28 Mar. Book by 9 Mar 2020
-36%
Was 65,99€
Nu 41,99€
Valid Matinees from 6 Feb - 28 Mar. Book by 9 Mar 2020 Excludes 19 Feb & 11 Mar