Belvedere Road, London, SE1 8XX GB
Enkele feiten
Meeste tickets voor West End
Beschikbaarheid van zitplaatsen in real-time
Kies uw plaatsen
Uw boeking wordt direct verwerkt in het reserveringssysteem van de kassa
Geen
boekingskosten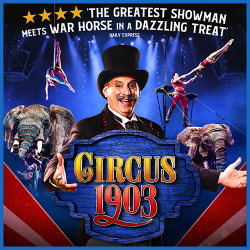 Circus 1903
4,9/5
-

Op basis van

10

beoordelingen
Boeking van: donderdag 16 december 2021
Boeking tot: zondag 2 januari 2022
Looptijd: 2 hours 20 minutes
Tickets vanaf 35,49€
Tickets Boeken
Informatie
Goedkope kaarten
Beoordelingen
Over Circus 1903
Tijden voorstelling
Boeking van: donderdag 16 december 2021
Boeking tot: zondag 2 januari 2022
Looptijd: 2 hours 20 minutes
Circus 1903 Beschrijving
Expect acrobats, contortionists, trapeze artists, a death-defying high-wire act and sensational life-sized elephants, created by the puppeteers behind War Horse.
All this entertainment is packaged into a show with a gorgeous vintage feel, inspired by the classic circuses of the turn-of-the-century era. And there's great news if you're lucky enough to have experienced the thrill of CIRCUS 1903 already: there are new acts included for 2021.
CIRCUS 1903 is suitable for families, however we do ask you to promise us that you won't try to recreate any of the more dangerous stunts at home; no matter how tempted you are.
Important COVID-19 information
Mask
You are required to wear a mask while inside this venue.
Covid safety
This venue has additional Covid-19 safety measures in place to ensure the health and well-being of the staff, performers, and guests.
Volgende uitvoeringen voor Circus 1903 in het LYRIC THEATRE
donderdag
16 dec 2021
19:30
Goedkope tickets voor Circus 1903
Ga in Londen naar Circus 1903 kijken! We kunnen u helpen om tot 70% te besparen op tickets voor Circus 1903! Als u op zoek bent naar goedkope theatertickets raadpleeg dan onze laatste aanbiedingen voor Circus 1903 in Royal Festival Hall.
Geen
boekingskosten
Valid select performances from 16 Dec - 2 Jan
Circus 1903 beoordelingen
4,9 uit 5
Op basis van

10

beoordelingen
Wat kunt u verwachten:
Acteerwerk
Muziek
Kostuums
Verhaal
Belichting
Aanbevolen voor:
Iedereen (80%)
Families (100%)
Tieners (80%)
Koppels (90%)
Theatergangers (90%)