Prince Edward Theatre
28 Old Compton Street, London, W1D 4HS GB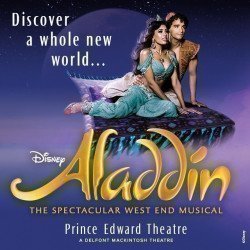 Aladdin The Musical
Op basis van

725

beoordelingen
Prince Edward Theatre
Boeking tot: Saturday, 30 March 2019
Tickets

boeken
Beoordeling door de pers
Lands triumphantly in the West End The Daily Telegraph
Sheer Genie-us Evening Standard
An absolute knockout The Spectator
Magnificent, a shining, shimmering spectacle Huffington Post
Brings magic to the stage BBC News
Marvellous Daily Mail
Theatrical magic The Daily Telegraph
It's all you could wish for and a whole lot more Smooth FM
Non-stop inventiveness The Guardian
Awe-inspiring The Stage
A sure-fire hit The Stage
This is wish-fulfilment, in every sense The Stage
This show has it all The Times
Mischief and spectacle Evening Standard
Prepare to be dazzled Glamour
Gleam, glitter and sparkle like nothing else in the West End The Stage
A huge hit The Sun
Aladdin is set to transport fans in to a whole new world BBC News
Gleeful City A.M.
Beoordeling door klanten
Wat kunt u verwachten:
Acteerwerk
Muziek
Kostuums
Verhaal
Belichting
Aanbevolen voor:
Iedereen
Families
Tieners
Koppels
Theatergangers
Op basis van 725 beoordelingen
Je wordt er blij van
Prachtige voorstelling. Mijn zoon van 14 heeft genoten! Het was het geld waard. De geest was fenomenaal!!
Antoinette London Box Office klant
Magische avond
Zeer goede voorstelling , met prachtige muziek , indrukwekkende kostuums en speciale effecten die je het gevoel geven dat je in een magisch land bent in plaats van in een theaterzaal.
Chloé London Box Office klant
Geweldig
Het was van het begin tot het eind geweldig. De zang, de kostuums de decors, verlichting en zelfs vuurwerk. Maar de topper was het vliegende tapijt. Een echte aanrader voor jong en oud.
Brigitte London Box Office klant
Geweldige show!
Geweldige show met de geest als absoluut hoogtepunt!
Francie London Box Office klant
Fantastische musical
Knappe decors en kostuums, leuke choreo's, de nodige humor, live muziek,...
Kirsten London Box Office klant
indrukwekkend
Indrukwekkend decor en kostuums. Knappe prestatie van de groep met uitzonderlijke prestatie van de geest !
Jan London Box Office klant
Super leuke avond gehad
Echt Disney ! Prachtige kostuums en mooie decors .... verhaal wat mager maar al met al niks aan de hand musical voor een gezellige avond uit
sharon London Box Office klant
Fantastisch
Annelieke London Box Office klant
entertaining kleurrijk humoristisch
Het was een geweldige ervaring gewoon genieten
Gerda London Box Office klant
kleurrijk, mooie decors, super genie
Yvette London Box Office klant
Een gezellig avondje uit
Hetbis een vrolijke voorstelling. Leuke muziek en dans.
Carola London Box Office klant
Vrolijk, humoristische en kleurrijk!
Joyce London Box Office klant
Be-geest-erend
Het deel voor de pauze behoort tot het beste wat ik ooit op een musicalpodium zag gebeuren. De scène in de grot is zelfs fenomenaal! Helaas zakt het niveau na de pauze wat, en komt er geen tweede denderend hoogtepunt meer. Toch enorm genoten!
Dirk London Box Office klant
the most vibrant, exciting show of the moment
wat een spektakel!!! De show opent ingetogen, maar eens Aladdin is aangekomen in de cave of wonders trekken ze alle registers open! Prachtdecors, overweldigende kleuren, glitters à volonté, ... Topcast! De show zou niet hetzelfde geweest zijn zonder Genie! Wat een persoonlijkheid! Een absolute aanrader voor iedereen!!!
Kristof London Box Office klant
Alternate Aladdin wasn't that good!
Roel London Box Office klant
Great show with a 90s throwback vibe
Great show with amazing actors. Gotta love Genie! Yago was fun to watch aswell, even though he's not quite the character from the Disney animation. Our seats were amazing: second row in the middle. 9/10
Nick London Box Office klant
Great!
Jacqueline London Box Office klant
Gebruik het zoekvak dat u links bovenaan deze pagina vindt om te zoeken naar tickets voor Aladdin The Musical.
London
Box Office

Belofte
Kies uw zitplaatsen tijdens het boeken
Veilig online boeken
Levering 100% gegarandeerd!
Geen verborgen kosten

Adres van het theater
Prince Edward Theatre
28 Old Compton Street, London, W1D 4HS GB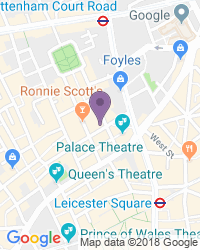 Faciliteiten
Airconditioning
Bar
Infrarood hoorlus
Lid van
Toiletten
Rolstoeltoegang
Informatie over het theater
Capaciteit: 1619
Bouwjaar: 1930
Volgende Voorstellingen