Southbank Centre, Belvedere Road, London, SE1 8XX GB
Enkele feiten
Meeste tickets voor West End
Beschikbaarheid van zitplaatsen in real-time
Kies uw plaatsen
Uw boeking wordt direct verwerkt in het reserveringssysteem van de kassa
Geen
boekingskosten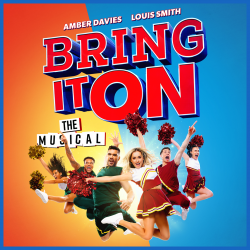 Bring It On The Musical
Boeking van: woensdag 8 december 2021
Boeking tot: zaterdag 22 januari 2022
Tickets vanaf 31,99€
Tickets Boeken
Informatie
Goedkope kaarten
Over Bring It On The Musical
Tijden voorstelling
Boeking van: woensdag 8 december 2021
Boeking tot: zaterdag 22 januari 2022
Bring It On The Musical Beschrijving
Amber Davies and Louis Smith are ready to BRING IT ON as the smash hit Broadway musical back flips into the UK. Inspired by the film of the same name, Bring It On The Musical is the story of the challenges and surprising bonds forged through the thrill of extreme competition. Packed with a vibrant team of characters, an electrifying contemporary sound and explosive choreography and stunts, this energy-fuelled journey is everything you could hope for and nothing like you expected.
Inspired by the film of the same name, Bring It On: The Musical takes you on a high-flying, energy-fuelled journey which tackles friendship, jealousy, betrayal and forgiveness – wrapped up in explosive choreography and tricks.
Cheer-royalty and newly crowned Squad Captain, Campbell (Davies), should be embarking on her most cheertastic senior year at Truman High School.
When she's forced to move to the neighbouring hard-knock Jackson High, Campbell fears her life is over.
But an unlikely friendship catapults Campbell back into contention, with a powerhouse squad and the fire to achieve the impossible.
Please note: Your tickets will be dispatched one week from performance.
Important COVID-19 information
Mask
You are required to wear a mask while inside this venue.
Covid safety
This venue has additional Covid-19 safety measures in place to ensure the health and well-being of the staff, performers, and guests.
Goedkope tickets voor Bring It On The Musical
Ga in Londen naar Bring It On The Musical kijken! We kunnen u helpen om tot 70% te besparen op tickets voor Bring It On The Musical! Als u op zoek bent naar goedkope theatertickets raadpleeg dan onze laatste aanbiedingen voor Bring It On The Musical in Queen Elizabeth Hall.
Geen
boekingskosten
Valid select performances from 22 Dec - 6 Jan